Processing
Dollies are scanned before processing. Batch information can be sent to a processing machine for vaccination or counting. Results per batch are fed back into Hatchtrack.
Labeling
Chick container labels containing all relevant batch information are printed manually or automatically using the correct label layout for each customer.
To maintain traceability of chicks, dollies with chick boxes must be labeled with a unique ID. For this, Hatchtrack uses a dedicated Hatchtrack PC with label printer.
Setting up the correct product, sales or production order, as well as other data to be printed on the label, also determines label layout.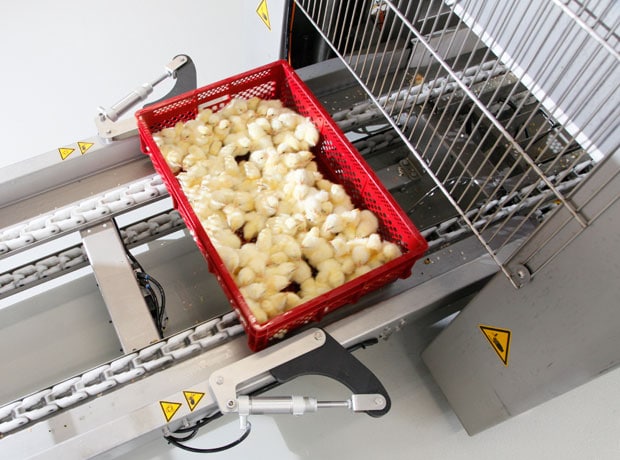 Whenever a dolly is fully packed with chick boxes, the operator pushes a button and a label is printed with the correct layout and a unique ID, both in text and in barcode.
The unique ID as well as the origin of the chicks at this dolly are now stored in the Hatchtrack database.
Shipping
To complete traceability, processed day-old chicks can be connected to their destination, during shipping. A Bill Of Loading can be generated, printed and/or synchronized into an ERP or sales invoicing system.
A Hatchtrack PC with one or more wireless scanners can be installed at the dispatch department. A label printer is connected to the dispatch computer for printing new labels if needed.
After connecting products to sales orders at dispatch, a delivery note or a bill of lading can be generated and the data can be forwarded to the ERP system for invoicing.